Tavares is a unique poet and spoken word performer who's stirring and profound poetry helps listeners and readers realize that every challenge and trial is a pathway to triumph.
His poetry runs the gamut of the human condition from politics to love to family to overcoming trials and spirituality. 
Tavares is a modern day psalmist whose amazing journey as a songwriter, poet, and producer illustrates how the grace of God's births gifts meant bless and inspire
Since 2009, Tavares has written and co-produced a catalog of music that at its core is the message of the Gospel and a true gift of inspiration.

Tavares combined his passion of helping others and teaching to transform student lives for over 15 years. He has been featured multiple times in the Atlanta Journal-Constitution for his service as an educator and mentor to youth in the metro-Atlanta area.
Tavares has been an educator in the metro-Atlanta area and currently consults organizations and teacher groups on mentoring, dealing with African American males, and integrating character education into the curriculum and much more. His proven unique teaching and mentoring methods are based on his personal notion that all children can learn and reach their potential if nurtured positively and consistently. 
---
Upcoming Events
July 10 – 11: Earl T. Shinhoster Leadership Institute (Savannah, GA)
July 12: Youth Theological Initiative – Fearless Dialogues (Atlanta, GA)
July 12: Candler School of Theology (Atlanta, Georgia)
July 16: Lee Arrendale State Prison (Alto, Georgia)
July 26: Fearless Dialogues
July 26: Candler School of Theology (Atlanta, Georgia)
August 4: Mundys Mill High School (Jonesboro, Georgia)
Phoenix Rising
(Songwriting + Poetry)
5th Isle 4th Row
(Poetry)
O Come All Ye Faithful
(Arrangement + Poetry)
Available Now
Evoking the spirit of the Psalms, The Ascension Project is a compilation aimed at worshiping God through music, song, and poetry. The Ascension Project reminds listeners that communion with God can ignite their faith in order to uplift, heal and overcome. It is a testimony of the love, grace, and redemption of God expressed as notes, melody, and verse.
Once you listen, you will be blessed, and you will remember that you were born to ascend.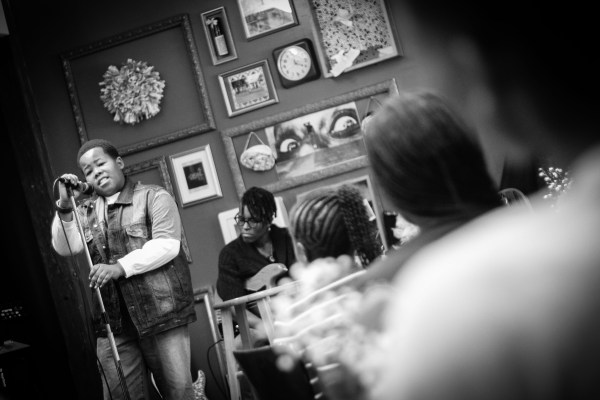 Helping Young Writers Find Their Voice
Tavares is a co-founder of VerbalEyze, a non-profit organization aimed at  fosters, promoting and supporting the development and professional growth of emerging teenage and young adult writers, ages thirteen through twenty-two. The organization strives to help them develop as writers and find their voice as they mature.
Initiatives that support this objective include providing access to public performance spaces, writers workshops, and publication opportunities.